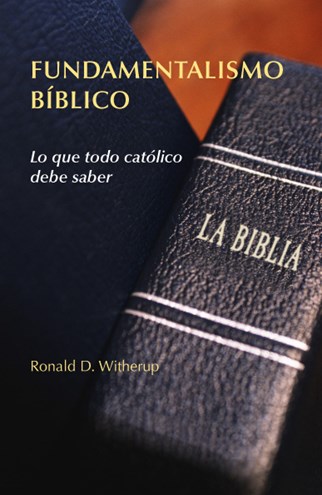 SEE INSIDE
Fundamentalismo bíblico
Lo que todo católico debe saber
Ronald D. Witherup
PRODUCT DETAILS
ISBN: 9780814618905, 1890
Details: 112 pgs, 5 3/8 x 8 1/4
Publication Date: 02/01/2009
SELECT FORMAT
〉
En rústica
In Stock | $10.95
DESCRIPTION
|
MORE BY THIS AUTHOR
|
REVIEWS
|
AUTHOR INTERVIEW
|
VIDEOS
|
DISCUSSION GUIDE
|
AUTHOR BIO
|
BIBLIOGRAPHY
El fundamentalismo sigue siendo un problema pastoral difícil. Algunos fundamentalistas no sólo atacan a la Iglesia católica diciendo que está en contra de la Biblia, sino que algunas actitudes fundamentalistas también han penetrado círculos católicos y han empezado a socavar lo que la Iglesia católica enseña sobre la Biblia. Este libro provee una descripción del origen, la historia, las doctrinas fundamentales y los problemas con el fundamentalismo bíblico y su influencia en la cultura de hoy. Da un resumen de lo que la Iglesia católica enseña sobre la Biblia y señala las características buenas y los defectos del enfoque fundamentalista de la Biblia.
Este título disponible solamente en Español./This book is written in Spanish only.
Ronald D. Witherup, PSS, PhD, es el Superior General de la Sociedad de San Sulpicio y fue profesor de las Sagradas Escrituras en el seminario St. Patrick en Menlo Park, California. Sus publicaciones incluyen los siguientes títulos: Conversion in the New Testament (Liturgical Press, 1994), A Liturgist's Guide to Inclusive Language (Liturgical Press, 1966) y The Bible Companion: A Handbook for Beginners (Crossroad, 1998). Su trabajo más reciente fue el de editar Christ in the Gospels of the Liturgical Year (Liturgical Press, 2008).
No hay muchos recursos pastorales que pudieran ser más bienvenidos que éste. Cualquier persona que ha tenido que ver con el fundamentalismo bíblico - en su parroquia, en su familia o en la oficina - agradecerá este enfoque tan completo, tan serio y de tal sensibilidad pastoral de este tema. Aquí los lectores católicos van a encontrar lo que el fundamentalismo conlleva, cómo es diferente de la enseñanza católica y cómo se pueden tratar a los fundamentalistas en un espíritu cristiano.
Donald Senior, CP, Catholic Theological Union, Chicago