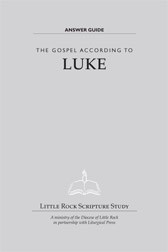 The Gospel According to Luke—Answer Guide
PRODUCT DETAILS
ISBN: 9780814631072, 3107
Details:
Publication Date: 08/21/2006
SELECT FORMAT
〉
Paperback
In Stock | $3.00
DESCRIPTION
|
REVIEWS
|
INTRODUCTORY LECTURE
This study has 12 sessions, incorporating an introductory session and 11 lessons. The Study Set includes a Study Guide by Little Rock Scripture Study Staff and the New Collegeville Bible Commentary, The Gospel According to Luke, by Michael F. Patella (Liturgical Press).
Michael F. Patella, OSB, SSD, is associate professor of New Testament at the School of Theology Seminary and the College of Saint Benedict/Saint John's University in Collegeville, Minnesota, where he writes the 'Seers' Corner' for 'The Bible Today', published by Liturgical Press.
Luke tells the story of Jesus of Nazareth as a mighty prophet and Savior of the world in fulfillment of Old Testament expectations. Luke also emphasizes Jesus as a person dedicated to prayer. He begins with Jesus' virginal conception and birth, and follows Jesus through his public ministry to his passion, death, resurrection, and ascension into heaven—all under the guidance of the Holy Spirit. Luke, along with Matthew and Mark, is one of the synoptic gospels. It is the primary gospel of year 'C' in the Catholic Church's liturgical cycle.
Weekly Sessions
Introductory Session
Lesson 1—Luke 1
Lesson 2—Luke 2
Lesson 3—Luke 3–5
Lesson 4—Luke 6–7
Lesson 5—Luke 8:1–9:50
Lesson 6—Luke 9:51–11:54
Lesson 7—Luke 12–13
Lesson 8—Luke 14–16
Lesson 9—Luke 17–19
Lesson 10—Luke 20–22
Lesson 11—Luke 23–24
Only one Answer Guide is needed per small group facilitator. Order all Study Sets for participants separately, as well as one set of the Wrap-Up-Lectures.