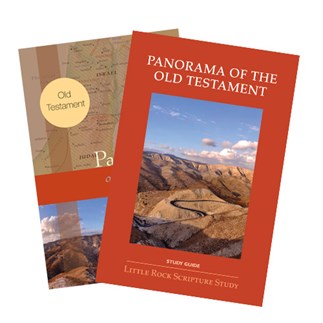 Panorama of the Old Testament—Study Set
PRODUCT DETAILS
ISBN: 978-0-8146-3685-5, 3685
Details: 136 pgs , 6 X 9
Publication Date: 06/02/2016
SELECT FORMAT
〉
Paperback
In Stock | $15.95
DESCRIPTION
|
REVIEWS
This study has 5 sessions, the Study Set includes the Study Guide by Catherine Upchurch and a commentary Panorama of the Bible: Old Testament by Stephen J. Binz.
Stephen J. Binz is a biblical scholar, award-winning author, and popular speaker. He studied Scripture at the Pontifical Biblical Institute in Rome and Jerusalem, and has developed dozens of books and programs in biblical theology and spirituality, including The God of Freedom and Life: A Commentary on the Book of Exodus (Liturgical Press). He offers keynotes and workshops at church conferences and leads pilgrimages to the lands of the Bible. Information about his work may be found at Bridge-B.com.
Every good adventure involves planning and reflection, explore the sweeping saga of God's people and their journey with God. Panorama of the Old Testament invites readers to survey the variety of books found in the Old Testament. The themes that are woven together will become clearer, the familiar characters will be placed in context, and God's overall plan of salvation will come into focus. A perfect way to begin a great adventure or step back and see where you have been in your study of the Bible.
Weekly Sessions
Introductory Session

Lesson 1—
Israel's Beginnings; Israel's Foundational Covenant

Lesson 2—
From Conquest to Kingdom; Division, Exile, and Restoration

Lesson 3—
Israel's Songs and Stories; Israel's Wisdom Tradition

Lesson 4—
Challenging the Times; Hoping in the Future



These lectures correspond to the five sessions outlined in the Study Set for Panorama of the Old Testament.


Wrap-Up Lectures on DVD or CD may be ordered separately.