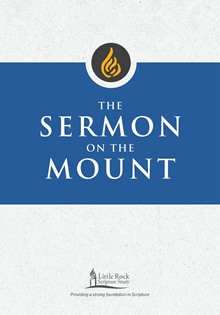 SEE INSIDE
The Sermon on the Mount
Clifford M. Yeary with Little Rock Scripture Study Staff
PRODUCT DETAILS
ISBN: 9780814644003, 4400
Details: 80 pgs, 7 x 10 x 1/4
Publication Date: 01/20/2020
SELECT FORMAT
〉
Paperback
In Stock | $16.95
DESCRIPTION
|
MORE BY THIS AUTHOR
|
REVIEWS
|
AUTHOR INTERVIEW
|
VIDEOS
|
DISCUSSION GUIDE
|
AUTHOR BIO
|
BIBLIOGRAPHY
Jesus' call to profound discipleship in the Sermon on the Mount is too often dismissed as special instructions for only the holiest and most exceptional Christians. In The Sermon on the Mount, Clifford Yeary challenges us to hear the sermon once again as Christ intended it, as our call to follow him whose life illustrated its every ideal. Yeary helps us to hear the Sermon on the Mount as a message for each of us, a challenge that is our constant call to renewal. Commentary, study and reflection questions, prayer and access to online lectures are included. 4 lessons.
Clifford M. Yeary served for many years as the associate director of Little Rock Scripture Study. He is the author of several Bible studies, including Pilgrim People, The Eucharist in Scripture, and Scripture and the Rosary, all published by Little Rock Scripture Study/Liturgical Press.
Bulk Pricing
1-4 copies
$16.95
5-14 copies
$13.95 net
15 or more copies
$10.95 net
This is another excellent resource for group Bible study from Little Rock Scripture Study. It offers a four-session study of Matthew's Sermon on the Mount. Little is left to chance here. Besides a clear and competent exposition of Matthew 5-7, the booklet lays out for the leader of the study group a systematic step-by-step process for involving members in thoughtful study and reflection on this key New Testament text.
The Bible Today
View an Introductory Lecture to this Series