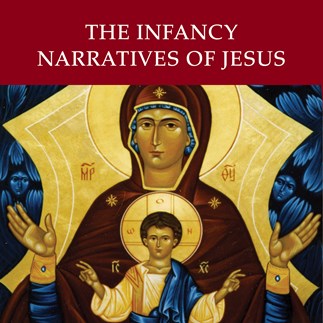 The Infancy Narratives of Jesus—Audio Lectures
Lecturers: Judy Hoelzeman, Betsy Wiederkehr Huss, Catherine Upchurch, Clifford M. Yeary.
PRODUCT DETAILS
ISBN: 9780814646137, 4613
Details:
Publication Date: 07/25/2016
DESCRIPTION
|
MORE BY THIS AUTHOR
|
REVIEWS
|
AUTHOR INTERVIEW
|
VIDEOS
|
DISCUSSION GUIDE
|
AUTHOR BIO
|
BIBLIOGRAPHY
This study focuses on the connection between the Old and New Testaments. Deepen your longing for the Messiah's coming again and ask God to be Emmanuel, "God with us." This study has 4 sessions, incorporating an introductory session and 3 lessons. The Study Set includes a Study Guide by Catherine Upchurch, and a commentary, Advent of the Savior, by Stephen J. Binz.
Stephen J. Binz is a biblical scholar, award-winning author, and popular speaker. He studied Scripture at the Pontifical Biblical Institute in Rome and Jerusalem, and has developed dozens of books and programs in biblical theology and spirituality, including The God of Freedom and Life: A Commentary on the Book of Exodus and Panorama of the Bible: Old Testament and Panorama of the New Testament (Liturgical Press). He offers keynotes and workshops at church conferences and leads pilgrimages to the lands of the Bible. Information about his work may be found at Bridge-B.com.
Both the theme and the short length of this study (4 sessions) make it ideal for Advent study. It focuses on the opening chapters of Matthew and Luke, the only gospels which describe the wondrous events surrounding the birth of the Messiah. This study also explores the many significant connections these two gospels make between the Old Testament and the birth of the Savior. Rich insights will be made as these two gospels are opened to reveal the special contribution each makes to our understanding of Jesus' nativity. Deepen your longing for the Messiah's coming again and ask God to be Emmanuel, 'God with us.'
Weekly Sessions
Introductory Session
Lesson 1—Matt 1–2
Lesson 2—Luke 1
Lesson 3—Luke 2
These lectures correspond to the four sessions outlined in the Study Set for
The Infancy Narratives of Jesus.
Wrap-Up Lectures on DVD or CD may be ordered separately.