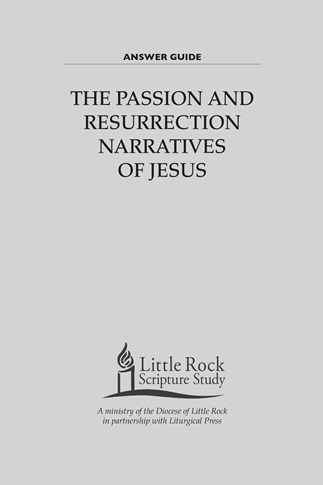 The Passion and Resurrection Narratives of Jesus—Answer Guide
PRODUCT DETAILS
ISBN: 9780814646366, 4636
Details: 10 pgs
Publication Date: 11/09/2016
SELECT FORMAT
〉
Paperback
- Answer Guide
In Stock | $3.00
DESCRIPTION
|
MORE BY THIS AUTHOR
|
REVIEWS
|
AUTHOR INTERVIEW
|
VIDEOS
|
DISCUSSION GUIDE
|
AUTHOR BIO
|
BIBLIOGRAPHY
This study compares the particular insights found in the passion and resurrection accounts of the four gospels. The core of our faith incorporates both the pain of the cross and the hope of the resurrection into daily living. Ideal as a Lenten/Easter study. This study has seven sessions, incorporating an introductory session and 6 lessons.The Study Set includes a Study Guide by Stephen J. Binz, and a commentary, The Passion and Resurrection Narratives of Jesus, by Stephen J. Binz.
Stephen J. Binz is a biblical scholar, award-winning author, and popular speaker. He studied Scripture at the Pontifical Biblical Institute in Rome and Jerusalem, and has developed dozens of books and programs in biblical theology and spirituality, including The God of Freedom and Life: A Commentary on the Book of Exodus and Panorama of the Bible: Old Testament and Panorama of the New Testament (Liturgical Press). He offers keynotes and workshops at church conferences and leads pilgrimages to the lands of the Bible. Information about his work may be found at Bridge-B.com.
The passion and resurrection of Christ are at the core of Christian faith and form the capstone of each of the four gospels. This study opens Matthew, Mark, Luke and John individually to reveal the special insights each has preserved. Examining the passion and resurrection will challenge you to incorporate both the pain of the cross and the hope of the resurrection into daily living. Many Scripture study groups have found this study to be ideal for Lenten/Easter study. Frequently, these groups will study the passion during Lent (Lessons 1–4), break for Holy Week, and resume study during Easter to examine the resurrection narratives (Lessons 5–6).
Weekly Sessions
Introductory Session
Lesson 1—The Passion According to Mark: Mark 14–15
Lesson 2—The Passion According to Matthew: Matt 26–27
Lesson 3—The Passion According to Luke: Luke 22–23
Lesson 4—The Passion According to John: John 18–19
Lesson 5—The Resurrection According to Mark and Matthew: Mark 16, Matt 28
Lesson 6—The Resurrection According to Luke and John: Luke 24, John 20–21
Only one Answer Guide is needed per small group facilitator. Order all Study Sets for participants separately, as well as one set of the Wrap-Up-Lectures.