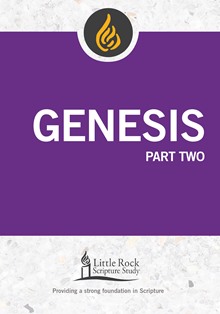 SEE INSIDE
Genesis, Part Two
Joan E. Cook with Little Rock Scripture Study Staff
PRODUCT DETAILS
ISBN: 9780814663714, 6371
Details: 96 pgs, 7 x 10
Publication Date: 12/20/2018
SELECT FORMAT
〉
Paperback
In Stock | $16.95
DESCRIPTION
|
MORE BY THIS AUTHOR
|
REVIEWS
|
AUTHOR INTERVIEW
|
VIDEOS
|
DISCUSSION GUIDE
|
AUTHOR BIO
|
BIBLIOGRAPHY
Bulk Pricing
1-4 copies
$16.95
5-14 copies
$12.95 net
15 or more copies
$9.95 net
A study of the book of Genesis moves the reader from the cosmic creation story to the story of the creation of God's people. Part Two of this study moves us forward from the time of Abraham to the unfolding of his family in the stories of Isaac and Jacob, as well as the story of Joseph and his brothers and their clans. Commentary, study and reflection questions, prayer and access to recorded lectures are included. 5 lessons.
Joan E. Cook, SC, teaches Scripture at Georgetown University in Washington, DC. She is author of Hannah's Desire, God's Design (Sheffield Academic Press, 1999) and Hear, O Heavens and Listen, O Earth: An Introduction to the Prophets (Liturgical Press, 2006), which won a first-place Catholic Press Association award in 2007. Cook has also written numerous articles on biblical women and biblical prayer.
Little Rock Scripture Study is a ministry of the Diocese of Little Rock in partnership with Liturgical Press and has produced widely used and effective Bible study materials for adults for over forty years.