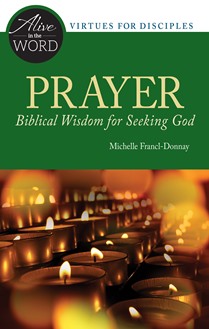 SEE INSIDE
Prayer, Biblical Wisdom for Seeking God
Michelle Francl-Donnay
PRODUCT DETAILS
ISBN: 9780814664056, 6405
Details: 48 pgs, 5 1/4 x 8 1/4 x 1/8
Publication Date: 10/04/2021
SELECT FORMAT
〉
Paperback
In Stock | $7.95
DESCRIPTION
|
MORE BY THIS AUTHOR
|
REVIEWS
|
AUTHOR INTERVIEW
|
VIDEOS
|
DISCUSSION GUIDE
|
AUTHOR BIO
|
BIBLIOGRAPHY
2022 Catholic Media Association honorable mention in prayer: books about prayer
In prayer not only do we call out to God, but God endlessly calls out to us, enfolding us in mercy, drawing us close in love. Yet prayer can be daunting. We may not be sure where to begin or how to continue. In Prayer, Biblical Wisdom for Seeking God, Michelle Francl-Donnay explores what Scripture teaches us about prayer with insightful commentary on three key passages. The voices of the psalmist, St. Paul, and Jesus are our guides in this rich volume on one of the most essential topics of the spiritual life. Reflection questions and ideas for prayer are included.
Michelle Francl-Donnay is a writer, teacher, wife, and the mother of two adult sons. She is a professor of chemistry at Bryn Mawr College and an adjunct scholar of the Vatican Observatory. Her writing about faith, science, and life can be found at michellefrancldonnay.com. She is the author of Not by Bread Alone: Daily Reflections for Lent 2020, Waiting in Joyful Hope 2020-2021, and is a contributor to Give Us This Day, published by Liturgical Press.
Visit Alive in the Word to explore more books in this engaging series.
Bulk Pricing
1-5 copies
$7.95
6-15 copies
$6.49 net
16-49 copies
$4.95 net
50+ copies
$3.95 net
"Michelle Francl-Donnay has honed her insight into God's hidden presence in our world in science, study, and contemplation. In Prayer, Biblical Wisdom for Seeking God, she lights the ways of prayer found in the Scriptures. She writes as a friend who has walked the road, but also as one setting out with us as a new adventure. I only wished it were longer!"
Kimberly Hope Belcher, Associate Professor of Theology, University of Notre Dame
"Writing with the awareness that we are created as restless seekers who long for God, Michelle Francl-Donnay offers an approach to prayer that is useful for both beginners and those who are ready to go deeper. The background information given on the selected Scripture passages is enhanced with insights from spiritual masters such as Ignatius, Augustine, and Desert Fathers and Mothers as well as thought-provoking questions for reflection. We find in Prayer, Biblical Wisdom for Seeking God a wise spiritual guide and teacher of prayer."
Fr. Jim McBurney, OSA, Provincial Administration, Spiritual Director