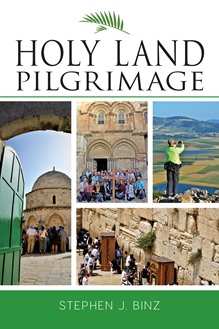 SEE INSIDE
Holy Land Pilgrimage
Stephen J. Binz
PRODUCT DETAILS
ISBN: 9780814665121, 6512
Details: 320 pgs, 6 X 9 x 5/8
Publication Date: 10/15/2020
SELECT FORMAT
〉
Paperback
In Stock | $24.95
DESCRIPTION
|
MORE BY THIS AUTHOR
|
REVIEWS
|
AUTHOR INTERVIEW
|
VIDEOS
|
DISCUSSION GUIDE
|
AUTHOR BIO
|
BIBLIOGRAPHY
2021 Association of Catholic Publishers third place award in Scripture
2021 Catholic Media Association Award second place award in pilgrimages/Catholic travel
Biblical scholar and seasoned pilgrimage guide Stephen J. Binz offers an up-to-date handbook for experiencing the sites of the Holy Land as a disciple of Jesus. Whether contemplating future travel, on the road of pilgrimage, savoring memories of a past trip, or journeying in mind and heart from an armchair, readers will explore the nature of pilgrimage and encounter the places of the Holy Land from a biblical, historical, meditative, and prayerful perspective. This guide will enable Christians to walk in the footsteps of Jesus, confident that their pilgrimage will be both an educational journey and a transforming spiritual experience. Full-color illustrations throughout!
Stephen J. Binz is a biblical scholar, award-winning author of many books on the Bible and pilgrimage, and a sought-after speaker, offering keynotes, seminars, and workshops at conferences and churches. He often leads pilgrimages to biblical sites and sacred places throughout the world. Stephen earned graduate degrees at the Pontifical Gregorian University and the Pontifical Biblical Institute in Rome, with additional studies at Hebrew University in Jerusalem. For information about his publications, speaking topics, pilgrimages, and contact information, go to his website at www.Bridge-B.com.
"Stephen Binz's book comes at a most opportune time. Few are better qualified than Stephen to lead us through the Holy Land in a way that brings out both history and spirituality that is applicable to our modern times today."
John Michael Talbot, musician, author, and founder of The Brothers and Sisters of Charity, Little Portion Hermitage
"Full of helpful maps and photos, this book offers meditations and prayers for each holy site. It works not only for those able to visit the Holy Land in person but for those who can only follow in Jesus' footsteps in their imaginations."
Catholic Media Association
"This easy-to-read book is a wonderful guide for pilgrims desiring to encounter God in the sacred sites of the Holy Land. Beautiful art, maps, and photos prepare us for all we will see. The rich historical and biblical background help us enter deeply into the significance of each of the holy places. And the prayers, novenas, and meditations for each site will help us write your pilgrimage on our heart. Stephen Binz has offered us a treasure that will help us draw closer to Jesus as we journey through the land where he walked."
Edward Sri, author of Walking with Mary: A Biblical Journey from Nazareth to the Cross
"Holy Land Pilgrimage is a gift to those called to make a journey where the Bible comes alive. In the Holy Land one walks, quite literally, in Our Lord's footsteps. Stephen Binz helps us connect the dots between the Scriptures and pilgrimage sites. Get the book and pray about making a pilgrimage to our Lord's homeland. You will learn the historical facts and see topographical landscapes, which will make you realize and say 'Aha! Now I get it!'"
Milanka Lachman, President of 206 Tours
"Stephen Binz has combined solid scholarship with deep devotion. For those who have never been to the Holy Land, this book will induce you to go. For those pilgrims on their way, it will serve as an excellent guide. And for those who have been blessed in their travels there, this book will keep that memory alive."
Rev. Michael Patella, OSB, Rector, Saint John's University School of Theology and Seminary
"In Stephen J. Binz's latest book, Holy Land Pilgrimage, the veteran guide to the bible lands and consummate scripture scholar invites the reader to traverse the land made holy by God's unique revelation here. First situating the virtual traveler within the religious context of pilgrimage for ancient Israel and later Christianity, the author then offers a historical introduction to the most significant sites, followed by helpful meditations. All this is punctuated with the author's full-color photos, making the work not only informative but beautiful. It is no small task to distill two-thousand years of history on the holy sites into a readable and inspirational format, but Binz has successfully done just that."
Laurie Brink, OP, Professor of New Testament Studies, Catholic Theological Union, Chicago, Illinois
"This latest work of Stephen Binz is the fruit of thirty years of exploring the Holy Land as both a pilgrim and a biblical scholar. With its rich introduction to the notion of Christian pilgrimage, its numerous photos (expertly taken by the author himself), and, especially, its evocative and well-informed descriptions of key regions and places connected with the biblical story, this is wonderfully accessible resource. It can serve as an excellent orientation both for those getting ready to visit the Holy Land or those who can travel there only in their imaginations."
Donald Senior, CP, President-Emeritus, Professor of New Testament, Catholic Theological Union, Chicago, Illinois
"This excellent book will help any physical or virtual pilgrim traveler make new connections with the Bible through the land. It will facilitate a new dimension to one's faith and will help Christians walk more closely with Jesus both in the Holy Land and on the holy ground of life's ongoing journey."
Faith Connections Travel
"A marvelous guide for pilgrims to the Holy Land that combines history, personal reflection, and prayers and meditations designed for the holy sites. Stephen Binz's inviting and accessible book will be a great asset to anyone wanting to explore the land often known as the Fifth Gospel."
James Martin, SJ, author of Jesus: A Pilgrimage
"A pilgrimage to the Holy Land is an extraordinary journey of faith, conversion, and joy, which Stephen J. Binz has laid out in brilliant detail. I hope this book inspires the faithful to say 'yes' to this invitation for the most invaluable gift that you can ever give yourself: join pilgrims who, for two thousand years, 'have gone in search of the 'footprints' of God in that land, rightly called 'holy,' pursuing them as it were in the stones, the hills, the waters which provided the setting for the earthly life of the Son of God.' (Pope John Paul II, 1999)."
Dr. Peter E. Bahou, President, Peter's Way Tours
"Traveling as a tourist is different from traveling as a pilgrim. In Holy Land Pilgrimage, Stephen Binz takes us on a spiritual journey—a true pilgrimage. While touching on the important biblical and historical aspects of the Fifth Gospel, Stephen incorporates the spiritual so well, with intimate reflections and his beautiful photography. Enter the Land of Emmanuel. You'll never be the same!"
Gus Lloyd, author of A Minute in the Church, Host of Seize the Day radio program
"This is an excellent resource for those preparing to visit the Holy Land-and something to savor upon their return."
The Bible Today
"I have lived in the Holy Land my entire life, steeped in its history, yet found information in Holy Land Pilgrimage that enlightened my understanding of places I walk by daily. I have appreciated the opportunity to get to know Stephen Binz when he brings groups on pilgrimage, and I greatly admire his concern about and dedication to the Christians of the Holy Land. The recognition and support Stephen Binz brings through his work assures us that we will not be forgotten and will be kept in the prayers of our brothers and sisters worldwide, whom we look forward to meeting when they visit the Holy Land."
Shibly Kando, Holy Land coordinator Select to Give Foundation, Bethlehem-based Christian cooperative
"First-time travelers to the Holy Land often share their feeling of being 'overwhelmed' by the sheer amount of information they encounter during a ten-day pilgrimage. Being well prepared before departure makes a huge difference in the quality of the experience pilgrims enjoy. Stephen Binz has a unique approach of a biblical scholar and an experienced group leader who understands how important it is to prepare the pilgrims with knowledge of the Holy Land and the biblical sites so they can fully enjoy the richness a Holy Land journey provides. Every pilgrim should read this book before traveling to the Holy Land, use it as a reference during the trip, and as a reminder of all the places visited upon return. For an armchair traveler, this is one of the most spiritually rewarding Holy Land guides I have found."
Edita Krunic, President, Select International Tours
"I have led pilgrimages to the Holy Land over sixty times over the past thirty years. I have found that preparing for the pilgrimage is key if one is to have a successful experience. Stephen Binz's Holy Land Pilgrimage is a wonderful guide both in preparation for your pilgrimage and a sure help while traveling where Jesus and the apostles walked."
Jeff Cavins, Creator of The Great Adventure
"Binz provides a guide for pilgrims that is not only informed by history and the Bible, but also prayer and meditation from beginning to end. This is a charming, thoughtful, and useful resource that will enrich any pilgrimage to the Holy Land and its sacred places."
John R. Barker, OFM, Old Testament scholar and biblical theologian
"As a leader of Holy Land pilgrimages myself, I have decided to make Stephen Binz's book my new recommendation for that inevitable question, 'What should we read to prepare for the Holy Land?' There is no book on the market quite like it, combining excellent historical scholarship, accurate geography, sound theology, and inspiring devotional material. It is a delight to the mind, the eye, and the heart!"
Dr. John Bergsma, Professor of Theology at Franciscan University, Steubenville, Ohio
"This beautiful book will help prepare any aspiring pilgrim and help them feel closer to the Holy Land. With beautiful images and interesting history, it's a must read!"
Claire Swinarski, author of Girl, Arise and host of The Catholic Feminist