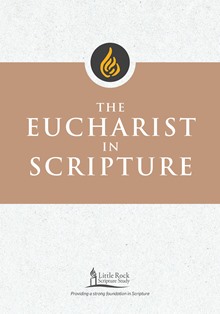 SEE INSIDE
The Eucharist in Scripture
Clifford M. Yeary with Little Rock Scripture Study Staff
PRODUCT DETAILS
ISBN: 9780814665152, 6515
Details: 96 pgs, 7 x 10 x 1/4
Publication Date: 05/15/2020
SELECT FORMAT
〉
Paperback
In Stock | $16.95
DESCRIPTION
|
MORE BY THIS AUTHOR
|
REVIEWS
|
AUTHOR INTERVIEW
|
VIDEOS
|
DISCUSSION GUIDE
|
AUTHOR BIO
|
BIBLIOGRAPHY
The Eucharist in Scripture explores the biblical theme of meals shared in faithful fellowship and in covenant relationship with God. Old Testament meals and promises provide a foundation for gospel meals with Jesus, culminating in the Last Supper as it is understood throughout the New Testament. Jesus' bread of life discourse and the early church's practice of "breaking bread" are also explored. Commentary, study and reflection questions, prayer, and access to online lectures are included. 5 lessons.
Clifford M. Yeary served for many years as the associate director of Little Rock Scripture Study. He is the author of several Bible studies, including The Sermon on the Mount, Pilgrim People, and Scripture and the Rosary, all published by Little Rock Scripture Study/Liturgical Press.
Bulk Pricing
1-4 copies
$16.95
5-14 copies
$13.95 net
15 or more copies
$10.95 net
Much of the basic content of this very practical resource is drawn from previously published commentary by Clifford Yeary, who has capably provided many of the Little Rock Scripture Study resources, but the format of this workbook-like publication has been enriched by staff to make it a valuable resource for Bible study groups and their leaders. It provides the Old Testament background on meal motifs and then studies the key texts related to the Eucharist in the four gospels and in Paul. Pertinent quotations from the Scriptures, helpful sidebars, and suggested discussion topics—resources that will be prized by readers—are found throughout the book.
The Bible Today
View an Introductory Lecture to this Series