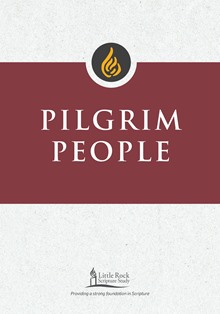 SEE INSIDE
Pilgrim People
Clifford M. Yeary with Little Rock Scripture Study Staff
PRODUCT DETAILS
ISBN: 9780814665282, 6528
Details: 88 pgs, 7 x 10 x 3/16
Publication Date: 03/03/2020
SELECT FORMAT
〉
Paperback
In Stock | $16.95
DESCRIPTION
|
MORE BY THIS AUTHOR
|
REVIEWS
|
AUTHOR INTERVIEW
|
VIDEOS
|
DISCUSSION GUIDE
|
AUTHOR BIO
|
BIBLIOGRAPHY
Come along on four major pilgrimages in Scripture —the journey of trust with Abraham and Sarah, the journey of freedom with Moses and the Hebrew people, the journey of exile and return with Israel, and the journey of discipleship with Jesus and his followers. God's call sometimes leads and sometimes sends, and the destinations can be new and wondrous or even dark and dangerous. What makes the journey a pilgrimage is God's abiding companionship. Commentary, study and reflection questions, prayer and access to online lectures are included. 4 lessons.
Clifford M. Yeary served for many years as the associate director of Little Rock Scripture Study. He is the author of several Bible studies, including The Sermon on the Mount, The Eucharist in Scripture, and Scripture and the Rosary, all published by Little Rock Scripture Study/Liturgical Press.
Bulk Pricing
1-4 copies
$16.95
5-14 copies
$13.95 net
15 or more copies
$10.95 net
Christianity is the only one of the monotheistic religions that does not require pilgrimage of its adherents, yet pilgrimage/journey is a popular metaphor for the Christian life. This book explores four biblical examples of this metaphor: the call of Abraham and Sarah, The Exodus and entry into Canaan, the exile and return, and the call of Jesus' disciples. Those looking for a well-developed aid for biblical study groups will find that this book fits the bill nicely.
The Bible Today
View an Introductory Lecture to this Series