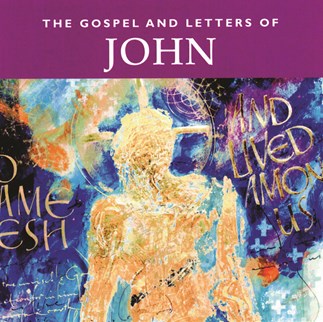 The Gospel According to John and the Johannine Letters—Audio Lectures
Lecturers: Daniel Borlik, CM, John Hall, Dan Hennessey, David LeSieur, Susan McCarthy, R.D.C., Jerre Roberts, Catherine Upchurch, Linda Webster, Karen Wenzel, Gregory C. Wolfe, Clifford Yeary"
PRODUCT DETAILS
ISBN: 9780814686461, 8646
Details:
Publication Date: 12/12/2006
DESCRIPTION
|
MORE BY THIS AUTHOR
|
REVIEWS
|
AUTHOR INTERVIEW
|
VIDEOS
|
DISCUSSION GUIDE
|
AUTHOR BIO
|
BIBLIOGRAPHY
This study has 15 sessions, incorporating an introductory session and 14 lessons. The last 3 sessions cover the Johannine letters, making it possible to adapt the study to 12 sessions by concentrating the study only on the Gospel of John. The Study Set includes a Study Guide by Little Rock Scripture Study Staff and the New Collegeville Bible Commentary, The Gospel According to John and the Johannine Letters, by Scott M. Lewis (Liturgical Press).
Scott M. Lewis, SJ, STD, is associate professor of New Testament at Regis College, Toronto, Ontario, and is engaged in retreat ministry. He is the author of What Are They Saying About New Testament Apocalyptic (Paulist Press).
Written in a poetic and symbolic style, John's Gospel tells the life story of Jesus, the incarnate Word of God. It begins with his heavenly existence and his descent into the world. It follows Jesus through his public ministry of 'signs' that lead to his passion, death, resurrection, and ultimate ascent to the 'glory' of his heavenly Father. Many of Jesus' miracles and teachings in John appear in no other gospel and what is common to John and any of the synoptic gospels (Matthew, Mark and Luke) is always told in a distinctive fashion by John. John places a special emphasis on Jesus' commandment to 'Love one another as I love you' (John 15:12).
Weekly Sessions
Introductory Session
Lesson 1—John 1
Lesson 2—John 2–3
Lesson 3—John 4–5
Lesson 4—John 6
Lesson 5—John 7–8
Lesson 6—John 9–10
Lesson 7—John 11–12
Lesson 8—John 13:1–14:14
Lesson 9—John 14:15–17:26
Lesson 10—John 18:1–19:37
Lesson 11—John 19:38–21:25
Lesson 12—1 John 1:1–3:10
Lesson 13—1 John 3:11–5:21
Lesson 14—2 John, 3 John
These lectures correspond to the fifteen sessions outlined in the Study Set for The Gospel According to John and the Johannine Letters.