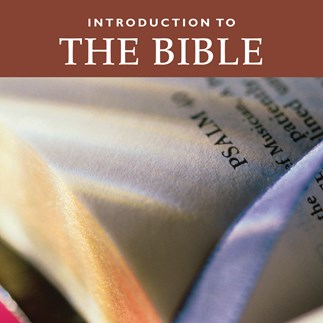 Introduction To The Bible—Video Lectures
Lecturers: David LeSieur, Catherine Upchurch, Linda Webster, Karen Wenzel, Clifford M. Yeary
PRODUCT DETAILS
ISBN: 9780814687093, 8709
Details:
Publication Date: 08/01/2007
DESCRIPTION
|
MORE BY THIS AUTHOR
|
REVIEWS
|
AUTHOR INTERVIEW
|
VIDEOS
|
DISCUSSION GUIDE
|
AUTHOR BIO
|
BIBLIOGRAPHY
This study has 7 sessions, incorporating an introductory session and 6 lessons. The Study Set includes a Study Guide by Catherine Upchurch and a commentary, 'Introduction to the Bible, A Catholic Guide to Studying Scripture,' by Stephen J. Binz (Liturgical Press).
Stephen J. Binz is a Catholic biblical scholar, speaker, and counselor. He did graduate studies at the Pontifical Biblical Institute in Rome and is a member of the Catholic Biblical Association and the Society of Biblical Literature. Binz is the author of numerous books on the Bible, including The Infancy Narratives of Jesus (Liturgical Press), the companion commentary to Little Rock Scripture Study of the same name, The Passion and Resurrection Narratives of Jesus, (Liturgical Press) the companion commentary to Little Rock Scripture Study of the same name, and The God of Freedom and Life, ( Liturgical Press) the companion commentary to the Little Rock Scripture Study, Exodus.
This study opens the Bible for newcomers and experienced Bible students alike, providing a real boost to those looking to gain more from study of the Bible. Participants will become comfortable finding their way around the Bible, develop a better understanding of its themes and writing styles, and gain clear insights about Catholic use and interpretation of the Bible.
Sample Wrap-Up Lecture
Weekly Sessions
Introductory Session
Lesson 1—
The Bible as God's Self-Revelation
The word of God in Christian Life
Lesson 2—
Choosing a Bible Today
Exploring Your Bible
Lesson 3—
The Scriptures of God's People
The Inspired Word of God's Church
Lesson 4—
The Word of God in Human Words
The Challenge of Faithful Interpretation
Lesson 5—
The Fallacy of Biblical Fundamentalism
The Canon of the Bible
Lesson 6—
The Importance of Biblical Scholarship
How to Read and Study the Bible
Only one Answer Guide is needed per small group facilitator. Order all Study Sets for participants separately, as well as one set of the Wrap-Up-Lectures.