The Four Essential Elements
Making Time for Scripture Study in Your Busy Life
Daily Personal Study
Spend about 20 minutes a day prayerfully reading and reflecting on a section of Scripture. Questions in the Study Guide direct the reflection, while the commentary provides solid Catholic scholarship that leads to deeper understanding.
Weekly Small-Group Sharing
Gather weekly in groups of eight to twelve to pray and to share your responses to the study questions. Trained small-group facilitators encourage the sharing of personal thoughts and experiences in an atmosphere of openess and trust.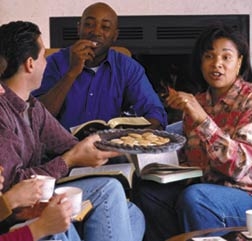 Wrap-Up Lecture
Listen to a brief lecture that follows the small-group discussion. The lectures develop and clarify the themes of the lesson and may be delivered by local speakers or by using audio- or video-taped resources.
Prayer
Prayer is the most essential of the elements. In addition to daily personal prayer, learn to use Conversational Prayer, a simple, effective method of prayer used in the small group. A source of unity, support, and guidance, prayer is the key to the success of your Bible study
---
Weekly Small-Group Session (90 minutes) includes:
Conversational Prayer (10-15 minutes)
Group Sharing and Discussion (50 minutes)
Wrap-Up Lecture (about 20 minutes)
Cuatro Elementos Esenciales
Tomando Tiempo en Su Ocupada Vida para el Estudio Bíblico
Estudio Personal Diario
Los participantes pasan cerca de 20 minutos al día leyendo una sección de la Sagrada Escritura y reflexionando sobre ella en actitud de oración. Las preguntas de la Guía de Estudio dirigen la reflexión, mientras que el comentario proporciona sólida erudición católica que conduce a una comprensión más profunda.
Compartiendo Semanalmente en Grupos Pequeños
Los participantes se reúnen semanalmente en grupos de ocho a doce miembros para orar y compartir sus respuestas a las preguntas de estudio. Animadores entrenados de grupos pequeños animan a los miembros a compartir ideas personales y experiencias en una atmósfera de apertura y confianza.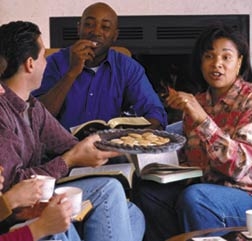 Conferencia Final
Escucha una breve conferencia que sigue al diálogo de los Grupos Pequeños. Las conferencias amplían y clarifican los temas de la lección. Estas pueden ser dadas por conferencistas locales con la ayuda de Sugerencias para Conferencia Final conseguibles con cada estudio.
Oración
La oración es el elemento más esencial. Además de sus oraciones personales diarias, los participantes usan un método simple y efectivo de oración compartida en el grupo pequeño. Fuente de unión, apoyo, y guía, la oración es la clave del éxito del programa.
---
Sesión del Grupo Pequeño Semanalmente (90 minutos) incluye:
Oración Conversacional (10-15 minutos)
Compartir en el Grupo Pequeño (50 minutos)
Conferencia Final (20 minutos)